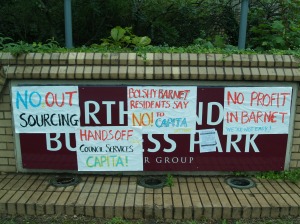 Barnet residents rose early on Friday morning, 8 July, to mount a protest outside North London Business Park where Barnet Council has its offices.
That morning the Council had organised a "Market Day" for their planned "New Support and Customer Services Organisation" (NSCSO). The NSCSO will incorporate revenue and benefits, human resources, finance, procurement, customer services (ie, call centre), and information services. The plan is that private companies will offer to run these services and in return Barnet Council will pay them £750 million over 10 years.
Further "bundles" of services are being prepared for transfer to the private sector: parking for £25 million; and regulatory services (including planning, environmental health, highways services, building controls, trading standards and licensing plus Hendon cemetery and crematoria) for £275 million.
As you can see, the sums are huge: a little over £1bn of public money going to the private sector to run council services. We believe this will lead to loss of control over services; lawyers will haggle over the details of who owes what to whom if services need changing. At the moment, residents can raise problems with the Council directly or with their councillors, and those problems can be sorted out quickly.
We also think it is wrong that public money should be spent on making the rich richer: the companies bidding to run our services basically only exist to make a profit. Maximising shareholders' dividends and boosting top executive pay is their motivation. The chief executive of Capita, one of the companies interested in bidding for the big contracts, is paid £14,500… a week!
Residents and council staff have not been consulted over these changes. Outsourcing on this scale was not in the Conservative Party's manifesto for the local elections. Barnet Council staff are currently taking industrial action against being transfered to private sector employment against their wishes.
This mass privatisation programme, called the One Barnet Programme, is also taking place at the same time as a damning review of Barnet Council's procurement practices found they routinely ignore their own rules, much purchasing is done without proper contracts being drawn up, and so on.
Please join us to oppose the One Barnet Programme. We are planning a series of activities. Email [email protected] for more details.