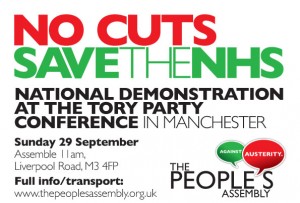 The 4,000 strong People's Assembly in June agreed to mobilise for a national demonstration outside the Conservative Party conference to send a loud, clear message that there is an alternative to austerity.
BAPS members and supporters will be sharing a coach with Brent Fight Back. The coach will leave Finchley Central tube station (the car park exit) at 8 AM Sunday 29 September (meet 7:45 prompt) and return the same evening, leaving Manchester at 5 pm.
The drop off point in Manchester is Liverpool Road, Manchester M3 4FP
The coaches will be leaving Manchester at about 5.00 pm from Whitworth Park Manchester M13 near the end of the demo.
The coach is free to Unite The Union and Unite Communities members, and to those on benefits. Otherwise it will cost:
£20 - solidarity price; £10 waged; £5 unwaged (refundable on the coach). Children free.
There are only around 20 seats available so please let us know ASAP if you'd like a seat.
Alternatively, click here to book your place on the People's Train to Manchester
or contact the following for other coaches:
Haringey: coach leaves from Tottenham Town Hall Approach 6:30am, tickets £20 waged, £10 unwaged, contact Keith Flett, Haringey TUC Secretary, 07803 167 266, [email protected]
Islington: 22 Islington Town Hall, Upper Street, N1 1XR at 8am. Tickets from Morag, 07904 534 580