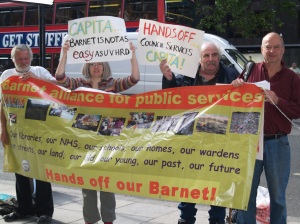 Capita is one of the big private companies bidding to run council services for a profit. Barnet council alone is offering contracts worth more than £1bn over the next 10 years.
If these outsourcing projects go ahead, we believe that services will decline and the workers delivering them experience worse pay and conditions. Meanwhile, shareholders will make fat profits, and senior offiicers and lawyers will all get their slice of the pie. (For example, Capita chief exec Paul Pindar is paid £14,500 a week…)
Join us in the first of a series of protests outside the HQs of the big companies to tell them - hands off our public services! Download Capita protest leaflet here.
Hands off our public services… Capita!
4.30-6.30pm, Thursday 7 July
71 Victoria Street, London SW1H 0XA
More details: [email protected]