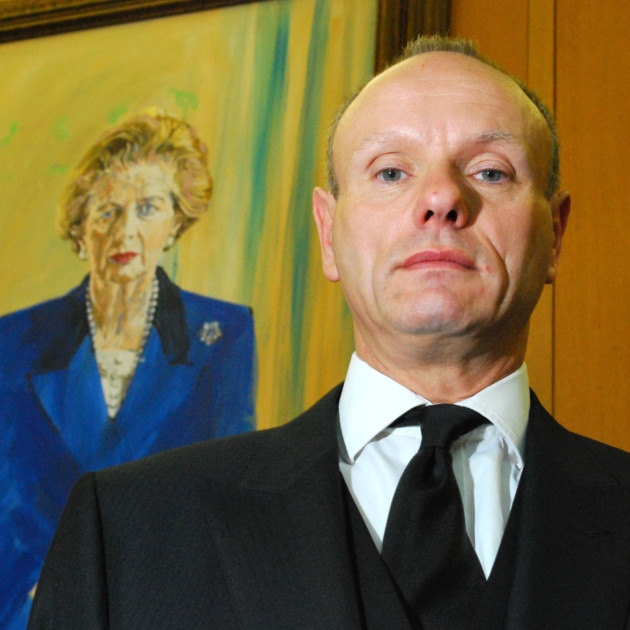 It is now over a week since I got a very nice posh velvety envelope enclosing a very nice posh piece of yellowish paper with a logo of a dangerous DO NOT ENTER spiked gate. Beneath it was a message and a '60 second survey' from my good friend Mike Freer. "As your MP" he tells me, "it is very important that I hear your views".
I was flattered and pleased. "He must be making up" I thought "for that time he called the police to have me and other more deserving people thrown out of one of his famous "meet the people" meetings" This was a series of evenings during the course of which he wanted to meet and give every single one of his [c 100,000?] constituents the chance to say what they thought of him. Unfortunately the wrong people turned up [some of his victims] and he declared that it was a private meeting by invitation only: a strange and interesting reversal of democratic norms where victims are sometimes given the privilege of being allowed to ask their masters to account for their misdeeds. And then I thought "Perhaps he is also feeling guilty on account of another incident." He had barged uninvited into a street party we were holding all of two years ago and expressed his 'thanks' to our little community for supporting him, and I had written to tell him that these thanks were uncalled for, and that more housing would be more welcome. Perhaps he felt mean and unloved on account of bringing in a law to call the police against any homeless person who dared to try and make temporary use of an empty house. "He must feel lonely, now" I thought. "He wants us all to tell him how much we appreciate his policies." I began to feel mean myself.
He is a bit of a pathetic excuse after all. He did get to university to 'do business' but had to leave early without getting a degree. So it's only natural he has to pretend to have one. From a promising career in 'Pizzaland' he descended into a position with Barclays just at the time [1997 - 2009] when it was in the middle of what became one of the most damaging and notorious scandals of the century: the worldwide cheating of millions of bank-card holders and mortgagees of $trillions. At such a crucial moment in his rise to power, it would have been a distraction for him to try to give any attention to the plight of the homeless. What could his inferiors do for him? [except pay him his 'expenses' and travel costs etc. - he was a Barnet councillor by then]. Much better cultivate his superiors. Sure enough, BT was taking advantage of its relatively recent privatisation, and was looking for a way to taking over local government and making it better serve big business in general and BT in particular. They set up a 'training programme' called "Vital Vision" . They sent Freer on a fortnight's holiday 'programme' to Princeton USA, and presented him with a piece of paper confirming that he had attended, [that's all!]. Freer chose to call that a MBA, but the Guardian newspaper exposed that little white lie.
I enclose a copy of Freer's letter. Tomorrow I will post some thoughts about how one might respond to his lying 'survey'.
But first…..
In researching this post I came across details of BT's horrific 'Vital Vision' for what they called "The Future Shape of Local Government" - a phrase later stolen by Barnet's Tories - and their sinister vision of ONE BT - to cover the idea that BT would take over much more than the old council services ……
BT was not slow to boast shamelessly to insiders how well-placed they felt themselves to be to subvert "democratic" government at all possible levels….the police, the NHS and health boards, education at various levels, central government, the civil service, the law, the army and defence, pensions, areas of local and regional government……all tending  in the direction of a corporate state [owned largely and serving BT]. They were not embarrassed about it. They were talking to their own kind……..
This is the nightmare vision of the society ONE BARNET is softening us up for.
Here is part of their propaganda:
Revenue
"The structure of the program has ensured that we have been able to use Vital Vision to gain
unparalleled access to key people to move our reputation forward. Vital Vision has undoubtedly
smoothed the way for open and straightforward discussions with influential clients; having built
a trusting relationship through the relaxed, but business focused, approach of the program. This
undoubtedly relates back to our client revenue. Indeed Vital Vision is held in such high esteem
that Sir Nigel Crisp has specifically shown interest in the program with a view to including it in
the NHS Leadership development process."
Steve Wells, General Manager - BT Health
Senior Level Access
"Vital Vision has enabled unparallel access to the senior echelons of our accounts….. enabling us to develop deep, personal and ongoing relationships with our clients based on a common understanding of business issues and shared reference points. The fact that BT delegates and clients interact in the same learning environment ensures that the clients see the BT delegates as equals that can help them to address their business issues."
Sally Wilcox, General Manager – Central Government, Justice & Police
Publicity and Public Relations
"Vital Vision has been a superb vehicle to get our key messages across to the Government
market. Over 100 of the most influential senior people within Government have been through
the programme and remain in contact through the ongoing events and through the personal
relationships that have been formed during that time……..The formal and informal PR that
this programme generates is highly valuable …."
Mike Blackburn, General Manager - Education and Local Government
……….Also in the spirit of "One BT", whenever possible the content of the seminars used in Vital Vision is shared across other divisions……..
Example Participants
Title………………Organisation
Managing Director London Borough of Hammersmith & Fulham
Deputy Director SCRO (Scottish Criminal Record Office)
Chief Executive East Northamptonshire DC
Chief Executive OGC.bs
Commandant The Royal Military College of Science
IS Director and CIO Department of Works & Pensions
Director of Education & Cultural Services Lincolnshire Local Education Authority
Director of Finance and Procurement NHS Information Authority
Director Customer Services Scottish Water
Chief Executive Norfolk CC
Network Strategy Director Highways Agency
Director - MTI Office of the e-Envoy
Chief Executive Officer Solihull Primary Care Trust
Director National College for School Leadership (NCSL)
Chief Executive Officer Kettering Borough Council
Head of Business Design Inland Revenue
Head of Enterprise and Industrial Affairs Scottish Executive Dept
Chief Executive Officer South Lanarkshire Council
Head Broadband and Internet Policy Team Department of Trade & Industry
Chief Executive Officer Advantage West Midlands
Chief Executive Officer Wakefield Metropolitan District Council (ex
Director of HR Department of Health
President ACPO
Director 21st C Government
Chief Executive Officer London Leadership Centre
Chief Constable Durham Constabulary
Head of Finance & Central Services Scottish Executive
Director General Audit Commission for Wales
Director of Finance & Strategy Driver and Vehicle Licensing Agency
Director of Information Services Cardiff University
Chief Constable Norfolk Police
Head of Corporate Finance City of Edinburgh Council
Chief Executive Officer Huddersfield PCT
Chief Executive Officer London Development Centre for Mental Health
Director of Operations HM Land Registry
Director The National Remodelling Team (NRT)
CEO NHS Direct
Director NHS Wales
Chief Executive Officer Becta
Director of The National Remodelling Team (NRT)
Middlesbrough Council)
Marketing Community Awards 2005
Title Organisation
Chief Executive Centre for Excellence in Leadership
Chief Executive Officer West Midlands South Strategic Health Authority
Director Scottish Forum for Modern Government
Vice Principal, Robert Gordon University
Chief Executive Officer Scottish Enterprise
Chief Executive Officer Hillingdon Trust
Chief Executive East Sussex DC
Chief Executive Officer Nottingham City Council
Chief Executive Officer NHS Confederation
Chief Constable Thames Valley Police
Director of Local Government Practice ODPM
Finance Director Greater Manchester Strategic Health Authority
Director, Technologies in Health Group NHS Modernisation Agency
Clinical IS Development Lead National Cancer Research Network
Director of Strategy and Planning Department of Works & Pensions
Technical Services Director Maritime and coastguard agency
Director Central Customer PITO
E Envoy Office of the e-Envoy
Director General, Strategy & Logistics Development Defence
Logistics Organisation
CEO North East London Strategic Health Authority
Chief Executive Watford MBC
IS, IT Director Department of Works & Pensions
Director Strategy & Technical Development
HQ Defence Communication Services Agency
Director of Marketing Communications Inland Revenue
Chief Constable West Midlands Polic
Director of Programmes & Performance Department of Health
Chief Executive Officer East London & City Mental Health
Director of Strategy and Communications DfE
Director General Information MoD
Chief Executive Officer NHS Information Authority
Head of Public Service Reform Office of Public Service Reform
Deputy Chief Constable Thames Valley Police
Director of eGovernment Education and Local Government
Chief Constable Greater Manchester Police
Director of Housing Edinburgh City Council
DEC(AWB) Royal Navy
Chief Constable, Devon & Cornwall Constabulary Devon & Cornwall Const
Head of e-Government Unit Cabinet Office
CEO, PITO PITO
Head of IT Strategy Unit Foreign & Commonwealth Office
Julian Silverman