A public meeting hosted by Save Mill Hill Library group.
On the panel will be authors Deborah Moggach and SF Said alongside Andrew Dismore AM, Matthew Offord MP and other local politicians.
RVSP here.
SIGN THE PETITION NO TO CLOSURE OF BARNET LIBRARIES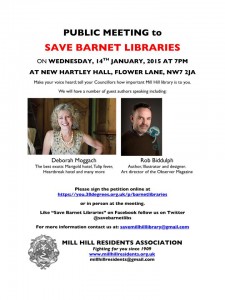 With a current total of 6,383 signatures online and on paper, we are almost at that Golden 7,000. If reached we will be able to dominate proceedings at the Full Council Meeting ensuring Councillors can hear how much Barnet residents value their libraries.
We cannot win with this alone. Councillors need to hear from residents about how they love and value their libraries in their own lives. Writing to councillors is an excellent way of ensuring they hear these views.
We strongly recommend you write to your councillors explaining why you think the libraries should remain open. A personal story can make such an impact as it brings to life how disastrous their proposals are. Remember; we were promised a council tax cut because savings were made, not at the expense of our treasured services. The 21p a week savings on our council tax bill, when combined, could cover the proposed library cuts. Here is a list of councillors and their emails;
Brunswick Park
[email protected] - Andreas Ioannidis (Lab), [email protected] - Kathy Levine (Lab), [email protected] - Lisa Rutter (Con)
Burnt Oak
[email protected] - Claire Farrier (L), [email protected] - Ammar Naqvi (L), [email protected] - Charlie O-Macauley (L)
Childs Hill
[email protected] - Jack Cohen (LibDem), [email protected] - Shimon Ryde (C) , [email protected] - Peter Zinkin (C)
Colindale
[email protected] - Nagus Narenthira (L), [email protected] - Gill Sargeant (L), [email protected] - Zakia Zubairi (L)
Coppetts
[email protected] - Pauline CoakleyWebb (L), [email protected] - Reema Patel (L), [email protected] - Barry Rawlings (L)
East Barnet
[email protected] - Rebecca Challice (L), [email protected] - Philip Cohen (L), [email protected] - Laurie Williams (L)
East Finchley
[email protected] - Arjun Mittra (L), [email protected] - Alison Moore (L), [email protected] - Alon Or-bach (L)
Edgware
[email protected] - Brian Gordon (C), [email protected] - Helena Hart (C), [email protected] - Joan Scannell (C)
Finchley Church End
[email protected] - Eva Greenspan (C), [email protected] -Graham Old (C), [email protected] -Daniel Thomas (C)
Garden Suburb
[email protected] - John Marshall (C), [email protected] -Gabriel Rozenberg (C), [email protected] -Daniel Seal (C)
Golders Green
[email protected] - Dean Cohen (C), [email protected] -Melvin Cohen (C), [email protected] -Reuben Thompstone (C)
Hale
[email protected] -Tom Davey (C), [email protected] - Kitty Lyons (L), [email protected] -Hugh Rayner (C)
Hendon
[email protected] - Maureen Braun (C), [email protected] - Anthony Finn (C), [email protected] -Mark Shooter (C)
High Barnet
[email protected] - David Longstaff (C), [email protected] - Bridget Perry (C), [email protected] - Wendy Prentice (C)
Mill Hill
[email protected] - Val Duschinsky (C), [email protected] - John Hart (C), [email protected] - Sury Khatri (C)
Oakleigh
[email protected] - Sachin Rajput (C), [email protected] - Brian Salinger (C), [email protected] -Stephen Sowerby (C)
Totteridge
[email protected] - Alison Cornelius (C), [email protected] - Richard Cornelius (C), [email protected] - Caroline Stock (C)
Underhill
[email protected] - Paul Edwards (L), [email protected] - Tim Roberts (L), [email protected] - Amy Trevethan (L)
West Finchley
[email protected] - Ross Houston (L), [email protected] - Kath McGuirk (L), [email protected] - Jim Tierney (L)
West Hendon
[email protected] - Dr Devra Kay (L), [email protected] - Adam Langleben (L), [email protected] - Agnes Slocombe (L)
Woodhouse
[email protected] - Geof Cooke (L), [email protected] - Anne Hutton (L), [email protected] - Alan Schneiderman (L)
[posted by Alasdair Hill]
#savebarnetlibraries @savebarnetlibs facebook.com/savebarnetlibraries
VENUE: Hartley Hall, Flower Lane, Mill Hill, NW7 2JA
TIME: 7pm, Wednesday 14/01/15